Articles
A selection of dishes on display Sunday Morning left to right Minted Melon Salad, 6th cent, Anthimus, Raisin Pies, 1553, Cookbook of Sabina Welserin, Parsnips Apician, Carrots Apician, Roman, de re cocquinaria, Bacon and Cheese Pasties, 1350, buch von guter spise.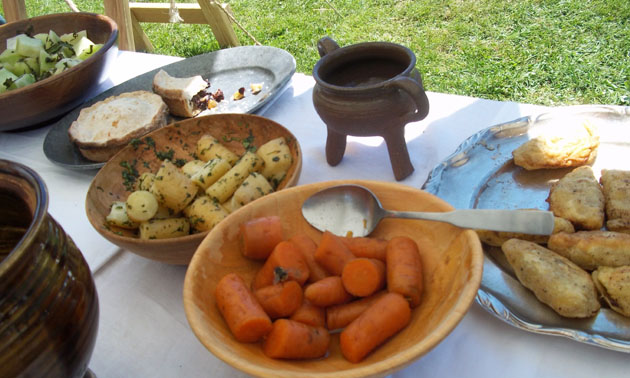 Our yellow chicken got a lot of attention from the public with many exclamations over the 'mustard' chicken. But there is no mustard here! The color was made with free range egg yolks and a bit of saffron although the spice was really redundant with the brilliant color of the egg yolk. When the chicken was done we applied a glaze made of nothing more than egg yolk, saffron and a bit of flour. On Sunday we made the white version.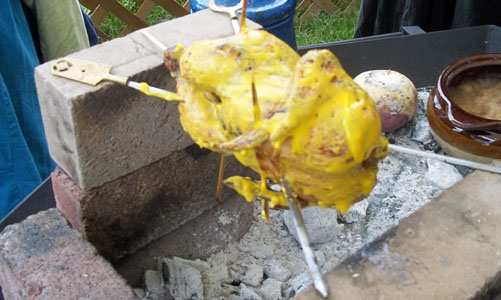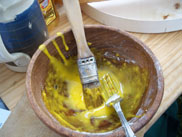 above Glaze waiting in the bowl for application.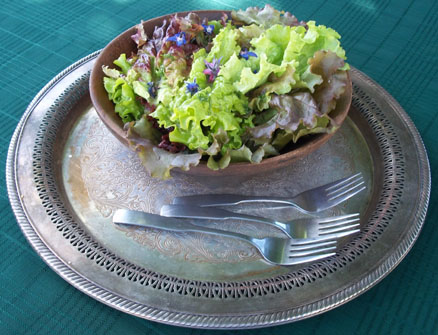 Above an Interpretation of a 12th century German Salad, based on material from Physica by Hildegard von Bingham.
And below, a conserve of Strawberries from 1573,
Both were presented along with some raisin pies for the A&S Competition.