Return to welcome
I have been a member of SCA for over 25 years, all of it in the great Barony of Dragons' Laire, in the Kingdom of An Tir. (Well, half of it anyway. Dragons' Laire was not elevated to Barony until 1995.) During all of that time I have been in the thick of things in the kitchen, organizing, supervising and cooking for potlucks, augmented potlucks and full feasts. (But I was cooking long before that, what with a family to feed and all.)
Over the years, I have officially served Dragons' Laire as Arts and Sciences Champion, Exchequer, Gold Key Mistress, Webminister, Chronicler, and Culinary Guildmistress.
I have been a frequent contributor to the local newsletter, The Flames of the Dragon. Some of my articles have been reprinted in whole or part in a wide range of branches all over the known world. Three of them found their way into the new edition of The Known World Handbook. I was briefly editor of Fabrica Eruditum, the A&S Supplement to the Crier, newsletter of An Tir, and am currently the Chronicler of my Barony.
My awards include of an Award of Arms, Companion of the orders of the Goute de Sang, and Jambe de Lion on the Kingdom level. And on the Baronial level, Member of the orders of The Wyvern and The Dragon's Pearl, The Bumblebee and Snapdragon, Dragon's Flame, The Dragon's Heart, Mano Minos, and the Argent Pavillion
These pages will reflect some of those experiences.
For those of you who are not readily familiar with the geography of the known world, The Barony of Dragons Laire is located in Kitsap County, State of Washington, USA, on the western shore of Puget Sound (Seattle is on the eastern shore). For more about the Fair Barony of Dragons Laire see dragonslaire.org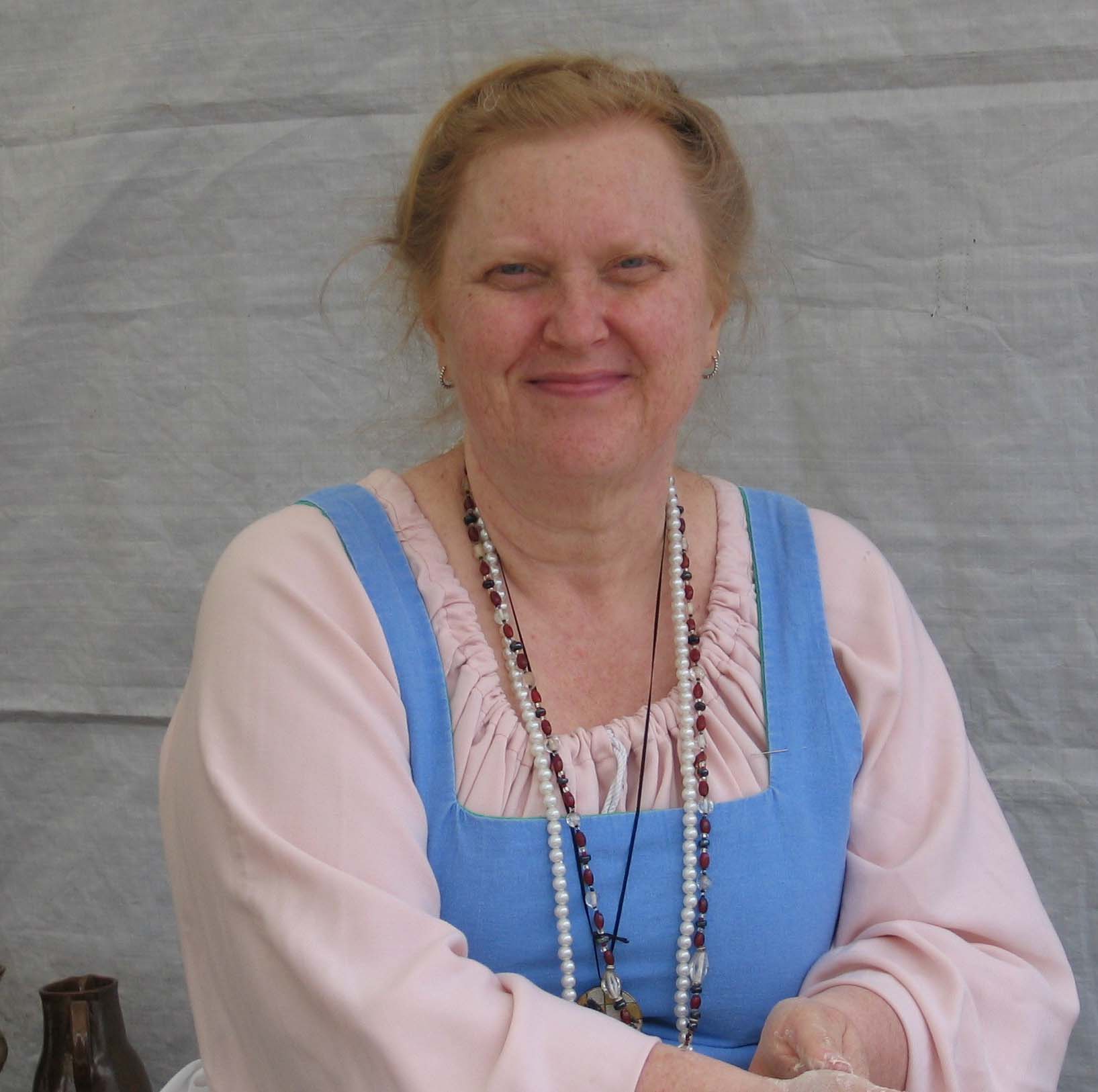 Rycheza at Junefaire 2008
I cannot do any of this without the consistent and loving support of my Lord Husband Mateusz. For more about him see About Mateusz.